A.I. More Dangerous Than Nukes, According To Elon Musk
Speaking at the South by Southwest (SXSW) conference and festival on March 11, billionaire polymath pioneer Elon Musk warned "AI is far more dangerous than nukes" regarding the dangers associated with the rapidly developing field of artificial intelligence (AI).
"I'm very close to the cutting edge in AI and it scares the hell out of me," Musk told the crowd.

"I think the danger of AI is much bigger than the danger of nuclear warheads by a lot," Musk said.
A 100-page report written by artificial intelligence experts from industry and academia has a clear message: Every AI advance by the good guys is an advance for the bad guys, too.
The paper, titled "The Malicious Use of Artificial Intelligence: Forecasting, Prevention, and Mitigation," calls this the "dual-use" attribute of AI, meaning the technology's ability to make thousands of complex decisions every second could be used to both help or harm people, depending on the person designing the system.
Professor Sharkey, speaking at Cheltenham Science Festival, said: "It seems to me that our privacy is gradually being violated and eroded without us noticing.

"I am part of the generation which all read 1984 – I think we are less happy about giving up our privacy.

"But the younger generation aren't really thinking about it. The services that Google and Facebook give us are so good that people are willing to trade off their privacy for them. If you grow up with that, that is what you know to like."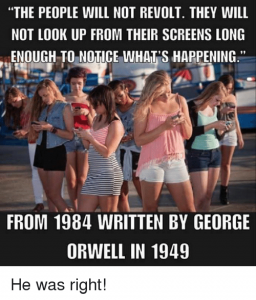 Edward Snowden Told Us What The NSA Was Already Doing
The very first story from Snowden by Pulitzer Prize Winning Journalist, Glenn Greenwall revealed that Verizon had been providing the NSA with virtually all of its customers' phone records. It soon was revealed that it wasn't just Verizon, but virtually every other telephone company in America.
This revelation is still one of the most controversial ones. Privacy advocates have challenged the legality of the program in court, and one Judge deemed the program unconstitutional and "almost Orwellian," while another one ruled it legal.
The existence of PRISM was the second NSA bombshell, coming less than 24 hours after the first one. Initially, reports described PRISM as the NSA's program to directly access the servers of U.S tech giants like Google, Facebook, Microsoft and Apple, among others. The NSA doesn't have direct access to the servers, but can request user data from the companies, which are compelled by law to comply.
XKeyscore is a tool the NSA uses to search "nearly everything a user does on the Internet" through data it intercepts across the world. In leaked documents, the NSA describes it as the "widest-reaching" system to search through Internet data.
"Even as the NSA demands more powers to invade our privacy in the name of cybersecurity, it is making the Internet less secure and exposing us to criminal hacking, foreign espionage, and unlawful surveillance. The NSA's efforts to secretly defeat encryption are recklessly shortsighted and will further erode not only the United States' reputation as a global champion of civil liberties and privacy but the economic competitiveness of its largest companies," Christopher Soghoian, principal technologist at the American Civil Liberties Union (ACLU) said at the time.
Elon Musk also thinks AI experts are not as smart as they think.
While some AI experts dismiss such fears, downplaying potential threats posed by artificial intelligence to humanity, Musk believes these "experts" are falling victim to their own delusions of intellectual superiority over machines, calling their thought process "fundamentally flawed."
"The biggest issue I have with AI experts… is that they think they're smarter than they are. This tends to plague smart people," says Musk.

"They're defining themselves by their intelligence… and they don't like the idea that a machine could be smarter than them, so they discount the idea. And that's fundamentally flawed."
Where Do We Go From Here?
I think people need to take a step back and think about the possibilities of misuse of the technology we so naively welcome and embrace.  Yes, it may be cool that you can tell Alexa to turn the lights on, but who may be listening to your every command on the other end?
Also, if AI bots like Sophia, the one in the video below become the norm, what risk do they pose?  We're headed down a path that may very well take every ounce of privacy we have away if we haven't done so already.
Sources:
http://humansarefree.com/2018/03/elon-musk-warns-ai-is-far-more.htmlhttps://qz.com/1213524/ai-experts-list-the-real-dangers-of-artificial-intelligence/
https://www.telegraph.co.uk/news/science/science-news/10881596/Young-people-give-up-privacy-on-Google-and-Facebook-because-they-havent-read-1984.html
https://qz.com/1213524/ai-experts-list-the-real-dangers-of-artificial-intelligence/
https://mashable.com/2014/06/05/edward-snowden-revelations/#EU_gkyPz6PqW