Ancient Paintings: Evidence of Alien Astronauts?
History has proven to be a great teacher for the human race, we have seen that our ancestors were extremely intelligent, with amazing knowledge on subjects such as astronomy, geometry, mathematics and other important sciences but they were amazing artists as well. From the construction of the great Pyramids of Giza to paintings in the Renaissance Era and further on, incredible stories have been told that have been difficult to explain.
In this article, we focus on some of the most interesting paintings of that period in History as we look at "The Baptism of Christ" by Aert De Gelder, "The Madonna with Saint Giovannino", "The Annunciation" and other very interesting pieces of art that tell incredible stories.
The interpretation given to each painting can vary from person to person but all of these paintings have something in common, they seem to tell the same story, incredible "flying machines" appear to be incorporated in the "scenery". But who could have possessed the ability to fly at that time in history?
Were these flying machines misinterpreted? Are they "clouds" or "angels" or is there something more to them? Are these different authors sending a message in their art? If there is one thing that these paintings are not, that is ordinary.
One of the paintings that we find very interesting is the "The Baptism of Christ" by Aert De Gelder.
Looking at this painting the first thing that you notice are these strange rays of light that are coming down from a disk-shaped object in the sky. It is one of the most interesting paintings and according to the Ancient Alien theory, this painting is a piece of strong evidence which illustrates a Disk Shaped flying object.
he author of the image painted a circular object, it cannot be confused as a cloud, it appears to have some sort of light at the center and the rays of light are coming out of this object, you cannot confuse it for thunder or anything else really. We believe that the author painted what he saw at a certain point in his life. If he wanted to paint a cloud or the sun he would have painted them in a much more effective way. We believe that this painting illustrates a disk-shaped UFO, much like the disk-shaped objects that are reported even today.
"The Miracle of the Snow" by Masolino Da Panicale is another incredible image that we cannot pass by without taking a closer look.  This painting was previously known as Dedicatio Sanctæ Mariæ ad Nives (Dedication of the Church of Our Lady of the Snows). This painting is very interesting because it illustrates a large number of disk-shaped objects flying in the sky.
The first thing that you can think of to explain these objects are clouds but are they really clouds? Did this author paint all of the clouds at that time giving them a "disk" or saucer shape?
Disk-shaped clouds?
At the Visoki Dečani monastery located in Kosovo, we find another very interesting piece of art. The Crucifixion of Christ.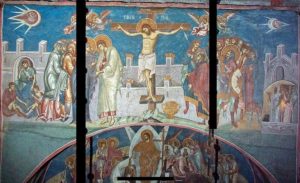 Located to the left and the right of the painting they seem to depict two humans that are inside some sort of spaceship. According to modern day explanations, these "objects" are placed in the painting to depict the sun and the moon as in other paintings. But why place "pilots" or a human inside them?
Was the artist really trying to illustrate our Sun and the Moon? Or was the artist trying to depict something otherworldly?
The Madonna with Saint Giovannino painted in the 15th century. Another painting that can be added to the list of ancient paintings that depict an unidentified flying object.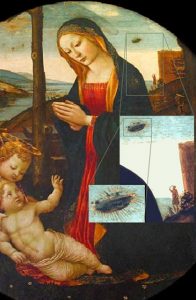 Above Mary's left shoulder we observe a disk-shaped object that appears to be glowing – a UFO?. It is an object which the artist depicted in great detail making sure it would stand out in the painting. To the right of the painting, we see a man that is holding his right arm above his eyes with which the artist made sure to send a message that this object was very bright. To the left of the image in the upper corner, we can see an object that looks like the sun.
With such secrecy over anything deemed "off wordly" it does make you think when you see history in paintings like this in a whole  new light.  What do you think?  UFO? Cloud?  Or just  the artist's imagination?
Source: https://www.ancient-code.com/do-these-ancient-paintings-feature-the-ultimate-ancient-astronaut-evidence/