Another 'Conspiracy Theory' Turned Into Fact: The Congressional Hearing On Weather Manipulation
Geoengineering (weather modification) is hitting the mainstream hard as a potential response to climate change. Congressional hearings and more are all taking place, but there is evidence to suggest that spraying has already been happening. All of the evidence showing it's been happening for a long time. Are they really spraying to combat climate change, or could there be some other reason these programs are taking place?
Here's a video of popular physicist Michio Kaku speaking on weather modification.
A United States government document printed at the request of the United States Senate Committee on Commerce, Science and Transportation in November of 1978 states:
In addition to specific research programs sponsored by Federal agencies, there are other functions related to weather modification which are performed in several places in the executive branch. Various federal advisory panels and committees and their staffs – established to conduct in-depth studies and prepare comprehensive reports, to provide advice or recommendations, or to coordinate Federal weather modification programs – have been housed and supported within executive departments, agencies, or offices.
A 1996 report conducted by top military personnel in the U.S, titled  "Weather as a Force Multiplier; Owning the Weather in 2025," reveals the supposed urgency to implement these programs:
"In the United States, weather-modification will likely become a part of national security policy with both domestic and international applications. Our government will pursue such a policy, depending on its interests, at various levels."
A Statement For GeoengineeringWatch.org From Scientist Michael Davis
"My name is Michael Davis, I was employed as an Environmental Engineer for nearly 16 years in the National Pollution Discharge Elimination Systems (NPDES) Programs Branch of the Water Division in Region 5, Chicago of the USEPA. I was terminated as a public servant performing a public service for raising the issues of anthropogenic deposition of aluminum due to atmospheric geoengineering." 
The interview below reveals how EPA scientist Michael Davis was fired from his post for attempting to disclose very dire public threats.
Morally bankrupt "public protection" agencies are actually used to hide grave threats from the public, not to disclose them.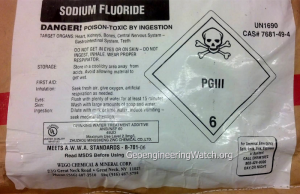 The label in the photo above should be shocking to any that are even slightly awake. Highly toxic industrial waste is officially labeled as a "drinking water additive".
The public has been trained and conditioned to believe that federal agencies like the EPA exist to watch over them and warn them of any potential dangers. This notion could not be further from the truth. Though there are honest and caring people within these agencies , the institutions as a whole exist to hide threats from the population, not to disclose them. The majority of the public continues to convince themselves that if there was really anything they should be concerned about, someone, somewhere, in some federal public protection agency would tell them.
The statement below should be a sobering wake-up call for us all. It is yet another confirmation of all that has been stated above. From global geoengineering to Fukushima, to toxic fluoridated water and lethal vaccinations, the public health and the health of our biosphere is being decimated. Where are the official warnings from official agencies?  The truth continues to be hidden by the government agencies that are tasked with hiding it.
The international community has spoken out against weather modification. Several global politicians, like Hugo Chavez, have also accused the United States of using weather manipulation for warfare purposes, specifically referencing the Haiti Earthquake.
HRH Princess Basmah Bint Saud said geoengineering is the west's "weapon of mass destruction."
So, as you can see, this has been an issue for a while. Unfortunately, it's doesn't really become an 'issue' until it's presented within the mainstream. Now, that's exactly what's happening.
Geoengineering Goes Mainstream
At the end of last year, this is what happened in US politics concerning geoengineering:
"As the nation continues to grapple with historic flooding and wildfires, Congressman Jerry McNerney (CA-09) has introduced legislation to explore innovative options to combat the root cause of these intensifying natural disasters: climate change.

Last month, Congressman McNerney called for a hearing in the House Committee on Science, Space & Technology (SST) to collect information from experts in the field of geoengineering – which implements techniques to counteract the effects of climate change. Today, the Congressman has introduced H.R. 4586, the Geoengineering Research Evaluation Act. This legislation would provide for a federal commitment to the creation of a geoengineering research agenda and an assessment of the potential risks of geoengineering practices."
Sources:
https://www.geoengineeringwatch.org
https://www.collective-evolution.com/2018/08/17/the-congressional-hearing-on-weather-manipulation-another-conspiracy-theory-turned-into-fact/