The War on Drugs: Complete Failure!
The war on drugs is bullshit.  Let's be honest.  As with every other war, America just doesn't ever end wars.  We drag them out forever and it becomes obvious the "enemy" we're declaring war on, is controlled by the same tyrants making the declaration of said war.  Sabotage from the beginning.
Drug overdoses are now the leading cause of death among Americans under 50. Drug overdose deaths now kill more Americans every year than the entire Vietnam War. The opioid crisis, heroin epidemic, and mass consumption of anti-depressant/psychotic drugs is really taking it's toll on society.  
According to an analysis report published by the U.S. Centers for Disease Control, overdose deaths from illicit drugs have reached war-like levels of annual deaths:
47,055 drug overdose deaths in 2014 (61% involving opioids)

52,404 drug overdose deaths in 2015 (63% involving opioids)
"The ongoing epidemic of opioid deaths requires intense attention and action," warns the CDC report, which also points out the role of Big Pharma and the overprescription of addictive opioids. Big Pharma is reaping a windfall of profits from addictive opioids.
Heroin-related deaths increased 439% from 1999 to 2014. As of 2014, heroin-related deaths had more than tripled in five years and quintupled in 10 years. Is it any coincidence we have the biggest prison population IN THE WORLD?
What The Hell Is Going On?
Well my take is that this all started during the Nixon administration as a way to subvert two  specific groups of people.  
"The Nixon campaign in 1968, and the Nixon White House after that, had two enemies: the antiwar left and black people. We knew we couldn't make it illegal to be either against the war on drugs or black, but by getting the public to associate the hippies with marijuana and blacks with heroin, and then criminalizing both heavily, we could disrupt those communities. We could arrest their leaders, raid their homes, break up their meetings, and vilify them night after night on the evening news. Did we know we were lying about the drugs? Of course we did."

-John Ehrlichman, Nixon Policy Advisor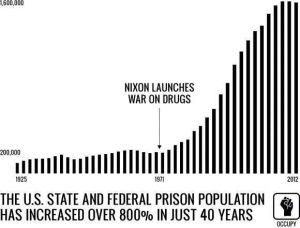 Private prisons has turned America's criminal justice system into modern day slave houses.  It's not geared towards rehabilitation.  They want repeat offenders.  A lot of corporations contract with prisons to make products for them at even cheaper rates than hiring child slave workers on the other side of the world.  With  killer profit margins like that they want to keep them rolling in.  Which means they need people in prison to keep production going so cost effectively.
I wonder how many people are in prison right now for a joint or other drug related crime that had no victim? With corruption running rampant in basically every state and federal government agency and court system God only knows how astronomical that number really is.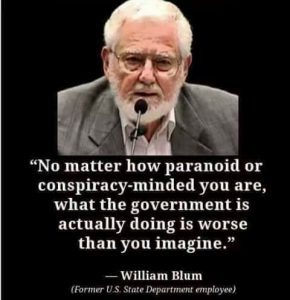 The CIA has been heavily exposed as drug runners for the shadow government funding.  To keep it off the books. So while we have some law enforcement agencies out there trying to combat the problem other parts of government are actually creating and supporting the problem.  You know how these psychopaths control both sides of everything.
It's also no surprise that a government that would allow a pharmaceutical company to sell a drug to be prescribed to children that is almost identical to crystal meth.  Yes folks, Adderall is basically legalized meth that doctors prescribe to children with ADD/ADHD.
Big pharma will stoop to any level to make a buck.  They are no different than a Mexican drug cartel.  They just control the politicians and legalize their drug trade and masquerade it as "medicine."  As a matter of fact, some pharma corporations have been busted supplying drug cartels with bulk chemicals to produce meth.   So basically pharma creates a pill version of meth while supplying chemicals to cartels to make the real stuff.
The corruption is off the charts.  It's so rampant I don't think it could be measured.
"The war on drugs has been extremely successful for those who want to build an authoritarian government, a centralized government, and a police state." 

-Ron Paul
There's even corruption in forensic science labs.  Former state chemist, Annie Dookhan, pleaded guilty to systematically faking lab science that convicted over 24,000 people on charges of drug possession. She was sentenced to 3 to 5 years in prison.  I'm not naive enough to think that's an isolated incident either.
It's not surprising that our society seems a little wacky huh?  Americans consume more anti-psychotic drugs than any other nation on the planet.  We only account for 5% of the world's population yet consume 65%+ of the world's anti-psychotic drugs. Being drugged into oblivion so we don't even know what's happening all around us.  It helps to carry out covert attacks on your own people if they are apathetic and docile.
Looks as if this was the plan all along: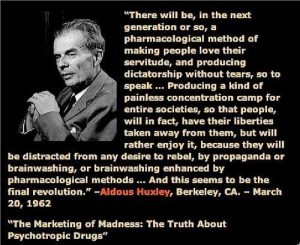 Let's also not forget our military is being used as drug lords guarding the goods. It is well-documented that the U.S. government has – at least at some times in some parts of the world – protected drug operations.
As Wikipedia notes:
Opium production in Afghanistan has been on the rise since U.S. occupation started in 2001. Indeed, a brand new report from the United Nations finds that opium production is at an all-time high.
Common Dreams notes:
The cultivation of opium poppy in Afghanistan—a nation under the military control of US and NATO forces for more than twelve years—has risen to an all-time high, according to the 2013 Afghanistan Opium Survey released Wednesday by the United Nations.

According to the report, cultivation of poppy across the war-torn nation rose 36 per cent in 2013 and total opium production amounted to 5,500 tons, up by almost a half since 2012.

"This has never been witnessed before in the history of Afghanistan," said Jean-Luc Lemahieu, the outgoing leader of the Afghanistan office of the United Nations Office on Drugs and Crime, which produced the report.
This shadow government/deep state/New World Order/Illuminati minions, or whatever you want to call them, are doing everything they can to destabilize  our society.  It's working too.